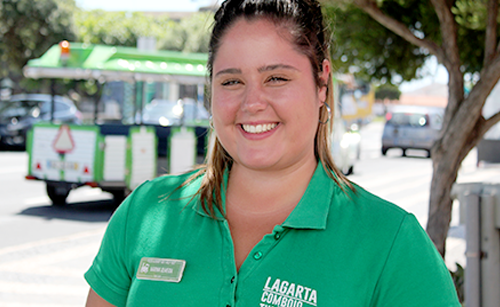 Lagarta - Animação Turística
Operating in Ponta Delgada since 2001, first with a tourist train, the company "Lagarta – Animação Turístico" has, over the years, diversified its range of services to provide our customers with immersive solutions that enliven their experience in the Azores, whether a unique tourist activity, a way of celebrating a milestone or improving your visibility in business.
With two tourist trains and a limousine, we work daily to create unique events; tourists can board our road trains and discover the unique historical and cultural aspects of the regional capital, while other visitors can make their local experience elegant by hiring our limousine service to celebrate their special moments.
We help make your idea a memorable day.
EXPERIENCE
For several years in the city of Ponta Delgada, we have an experienced, knowledgeable team always with a smile on their face, ready to make your day special.
Talk to us
FLEXIBILITY
Not sure what you want to do? Whether you are booking a Limousine or a Road Train tour, our team makes the organization simpler and more suitable for you.
Talk to us
GUARANTEE
Whatever your reason for contacting us, we guarantee a service of excellence and the certainty that we will do everything to make your event a success.
Talk to us